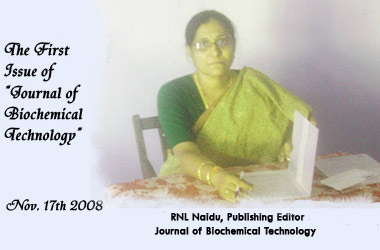 First Issue of JBT: Initiation of this Journal was the culmination of several months of work done by Honorable Director Sri R.R. Siva Kiran. The proposal to start an International Journal was discussed in the Society Meeting on 31 Jan, 2008 (Minutes of Meeting). On 10th Feb, 2008, the society members passed a resolution to start an international journal titled "Journal of Biochemical Technology" under Sevas Publishing. The Secretory, Sevas Educational Society was appointed as the publishing editor and the Director, Sevas Educational Society as Editor-in-Chief of this International Journal.
Journal Website: http://www.jbiochemtech.com - Now open Source from March 2009
The society members have decided to launch the first issue of the Journal of Biochemical Technology by the Honorable Vice Chairman (G Appa Rao), Sevas Educational Society, on 17th November, 2008, Thursday in the village Komatipalli, Andhra Pradesh, India.
The essence of launching the first issue of this international journal in a village reiterates the objective of the society
To increase the standards of students and faculties who stay in institutes or in research organizations located in and around the villages.
The unique Authors Advisory Board of this journal is instituted to help the students and faculties to achieve international standards in technical report writing. The society thanks the Chairman & Director, R.R.Siva Kiran, Brijesh (Associate Editor) and Eugenia Xu (Associate Editor) for helping in all the developmental activities of this journal. Thanks to all reviewers and editorial board members for helping in all aspects of our journal development. We are grateful to the financial help by Brijesh (Associate Editor) and Archna Editor (Advisory) in bringing the first issue. Contributions from Alexandros G Georgakilas, Emily Abras, Ruhul H Kuddus, Srinivasa K G (For giving sample manuscript templates) and Ahalya N (For English correction of the first print) are highly appreciated. Journal Website: http://www.jbiochemtech.com
2011: Former Editorial Advisory Member, Alex Georgakilas, was appointed as the Editor-in-Chief of Journal of Biochemical Technology by the Publishing Editor RNL Naidu. Dr. Alexandros Georgakilas is an Associate Professor in the Department of Biology at the East Carolina University (ECU) and adjunct Assistant Professor at Dept. of Chemistry, ECU. His research interests focus on the delineation of the DNA repair pathways involved in the processing of oxidative clustered DNA lesions and implications to carcinogenesis. He is responsible for the DNA Damage and Repair laboratory at ECU and having trained several graduate and undergraduate students. His work has been supported by various non-federal funding sources, including a NC Biotechnology Grant. He also has an excellent track record of productivity in oxidative stress, DNA repair and cancer research, including a recent collaborative publication in Proceedings of National Academy of Sciences USA associating tumor growth and DNA clusters induction in vivo. He has published more than 45 peer-reviewed papers and several conference proceedings. He holds the following editorial positions as Associate Editor of Radiation Research, Molecular Biosystems (Advisory Board), World Journal of Biological Chemistry, Journal of Biotechnology Applications
2014: The Publishing Editor decided to register a charitable society named"Biochemical Technology Society" with the help of Editorial Board Members and few well wishers for further development of this journal. (http://www.biochemicaltech.com). The director of Sevas Educational Society was appointed as the Editor-in-Chief.
Currently Sevas Publishing has published many books including Edwin M. Bruce Manual for Detection of the Common Food Adulterants: Updated Version With Greater Than 300 New Protocols, A Guide to Reseach in Electrobiochemical Technology, Proceedings of IAPEN First National Conference and many more.
Sevas Publishing always promotes conferences conducted by supporting organizations and provides books and also posts course materials and many more.
Publishing Editor
RN Lakshmi Naidu
Sevas Publishing